Ferrari 250 TR - Latest Race at Oulton Park.
Oulton Park '50s Sports & GT Car Race 1st October 2011 by Stuart Anderson
A late qualifying session for the Ferrari 250 made a lazy start to the day, leaving home about 7am with a short stop for fuel on the way. We arrived at about 9am. This would be the first time out with the car for over a year, so you can imagine how much I was looking forward to it.
All the preparation over the last few weeks meant there should be nothing much to do to the car prior to qualifying other than reduce tyre pressures to the desired figure. So on arrival Rob removed the tiedowns while I went to sign on and collect the programme and scrutineering ticket.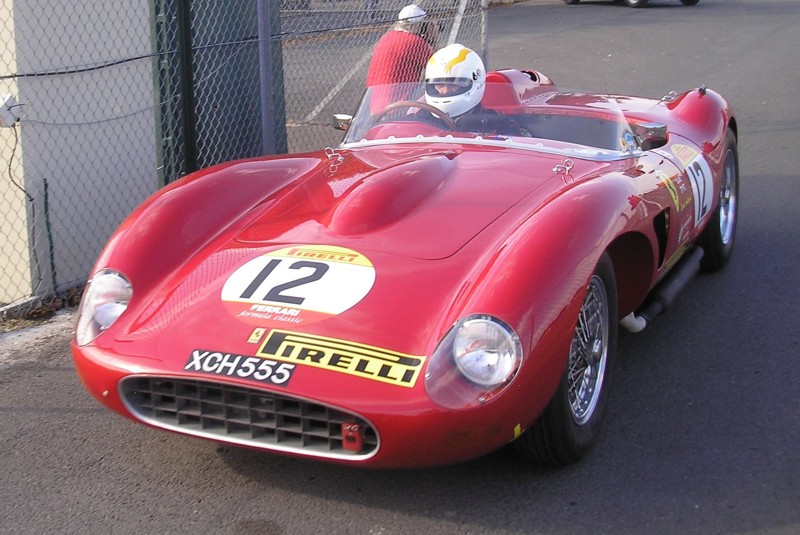 Ferrari 250 TR just before the off.
Together we rolled the car off the trailer, started the TR up and drove the few yards to have it checked over by the scrutineers. After a short time a valid ticket was produced and displayed in a prominent place on the dash for all to see.
We now had to wait while Races 1 through 5 went out for their 15 minute qualifying period. As our race (6) had a two-driver option, the qualifying and the race were for half an hour each.
Time seemed to flash past, barely time for a cuppa and a comfort break and we were called for our qualifying session by which time Paul had joined us. Typical in racing, something unexpected cropped up, the tyre pressure gauge would not seem to work, it work on one tyre but not the other three, then would not work on any. By now it was third and final calls for race 6 qualifying! So I quickly borrowed a gauge, Paul and Rob completed the task and in a semi panic I went to the collecting area. As usual they check the noise level on entry and as usual, the Ferrari 250 passed with flying colours.
The on-board video camera was running, there was a bit of a wait and then we were given the signal to go and do our best. It was so good to be back at Oulton, although I had been there in May and July driving the Safety Car for British Super Bikes it is by no means anything like racing. Oulton Park is my favourite UK track, its twists and turns, gradients and trees make it superb. Many think of it as the UK's answer to Spa Francochamps in Belgium and if you have driven both I think you may well agree.
I was hoping to have some one to chase, and although I did catch and pass a couple of cars, otherwise I had an un eventful and lonely end to qualifying, so much so I decided I was unlikely to go any faster and came in early and get the tyre pressures checked by which time our session had ended, so I would have only done one more lap in any case.
Back to the paddock for a drink of water, the weekend weather would be one the best in the year and it was the forecast in the week that I decided to enter the race, don't forget it was October the 1st.
The lads, I use the term loosely, informed me that looking at the monitor on the pit wall it would appear that my nearest rival was about 3 seconds behind giving me a surprise of pole.
The tyre gauge turned out to need a new battery, even though it still displayed zeros. So I robbed one from the Passat key fob and now it works fine. We then set out to compare the pressure gauge we had borrowed and decided mine read about 1lb lower. So we recalculated the pressures needed prior to the race.
Rob and Paul measured the unused fuel and we had a debate about what the race distance of half an hour was likely to be, plus one green flag and a slow down lap. Now we could calculate how much fuel should be put in working on the basis it is better to have too much than too little.
As a precaution I always bleed the brakes, just one or two strokes of the pedal for each corner. I never have problems but prevention is better than cure.
You can imagine my disappointment when I saw the grid sheet, I was second. So I would start front row left hand side. All I had to do was make a great start and take an early lead, not that you can ever plan. With Dunlop CR48's I had gone faster that was in 2005 in the PFfC.
Our race was the penultimate of the day at 16:45, so it seems like you have all the time in the world but time erodes away quickly when you're having fun, so with wheels back on, water and brake fluids checked, refuelled and tyres pressured we were ready to go when our call for race 6 came over the Tannoy.
The Race.
We were held in the collecting area for what seemed ages, the delay caused by someone in the previous race dropping oil down at the Foulstons Chicane and it had to be "dressed" to make it safe for us to run as most of it was on the "racing line". At last we were waved out, so video camera on.
The lap out from the collecting area round onto the grid was our "green flag lap", which means, you form up on the grid the red lights come on ……..and when the red lights go out we are racing!
A disastrous start, I sat with the wheels spinning, no traction to speak and was in danger of the pack behind swarming past. Not just too much throttle but tyres that are 3 years old didn't help. I did see out of the corner of my right eye the nose of an Aston from the second row but by now I had momentum and was into the first corner, with the lead Aston further ahead than I'd hoped.
Through Cascades I realised I was losing touch with the leader and set about concentrating and push as much as I could but keeping it smooth. Out of Shell hairpin, I could see I was well ahead of anyone else, I could see them on their approach to the hairpin.
No matter how hard I tried, lap after lap I could not make any advance on the lead Aston. No matter, it's not over 'til it's over, so head down and concentrate on driving - no mistakes.
It didn't help with concentration when on about lap three I had something deposit its self in my left eye, which by now was beginning to irritate. Even though I know you shouldn't, I rubbed and of course made it worse.
By now I was alone, and thinking I should perhaps make my pit stop. What pit stop I hear you ask? Ah well, if two drivers were taking part the first driver had to come in after lap three and 5 mins prior to the end of the race, switch the engine off, get out, the second driver gets in, belts up, starts the car and can go when a minimum of 45 seconds had passed from stationary. If, like me there is only one driver, he can stay in the car, leave the engine running but must spend 45 seconds stationary.
As I entered the pit lane I was careful not to exceed the 60kph speed limit, for those like me it's some where between 37 & 38mph. It seems so slow after driving round as fast as you can. I decided I wanted to be at the far end of the pit lane so on my way out I would only have a short distance to travel at the pit lane speed limit. I pulled up where I'd arrange to meet my crew.
Paul held the watch and Rob gave me the count down - team work eh?
It reminded me of the film Le Mans with Steve McQueen in it, you know where it's in s..l..o..w m..o..t..i..o..n. Eventually 4, 3, 2, 1, GO! As I rejoined I could see a car coming round the first corner, Old Hall, and as I got up to speed I realised it was the lead Aston. Rob and Paul had said I was leading when I came in as the leader had pitted one lap prior.
Although now I was back into second place, the second driver was behind the wheel and I was gaining, not much but I was gaining. The gap fluctuated a bit and not just as the speed increased and decreased. A 5 second gap at 100 mph is twice the distance in feet at 50 mph. That is why (in F1 especially) a car seems to get closer as it decreases its speed into corners, but the difference in time stays the same.
Little by little I got closer, so much so I was thinking of a way past, I felt I was in with a shout for the lead. Trying ignore my eye irritation I got within less than a second. It was such a hot day, not only was it hot in the cockpit from the heat radiating from the engine and transmission but also through the peddles. The heat was going uncomfortable through my race boots, I'd only ever noticed that once before at Zandvoort in (PFfC) 2005 when it was a scorcher.
Back to racing, when the chequered flag fell I realised I'd just have to be content with 2nd place as now it was all over. If only there had been another lap …or two. It was however close enough to make it a race, as a few people attested later in the paddock, including the winning drivers. The car went really well, no problems as usual, and we all lived to fight another day.
Oh yes, the grit in my eye finally worked it way out after a trip to the med centre.
Throughout the day it was great to have a steady stream of folks, young and old coming over to admire the car. We always meet such lovely people, asking "…are you racing it today? What time? Which race? Then staying especially to watch.
Thank you Rob Sharp and Paul Mercer without whom it would not have been the same.
The Ferrari 250 is well suited to the 50s Sports and GT Race Series.
I can thoroughly recommend the Series either as a spectator or as a participant.
They are a very friendly and helpful bunch, all Gentlemen drivers.
They always have a terrific race series planned.
Check out their web site whether you are thinking of racing or looking for some weekend's entertainment watching real cars race. www.fiftiesracing.org