Ferrari 250 - GTO
I felt that although this website is dedicated to my 250 TR, I wanted to mention the Ferrari 250 GTO.
The 250 GTO is an icon of its era which was confirmed recently by the sale of the car built for, but not raced by Stirling Moss. He suffered injuries in a crash on April 23, 1962, at Goodwood halting his race career.

Seen here not in Italian racing Red, but Apple Green. The car sold for a staggering $35M, a world record.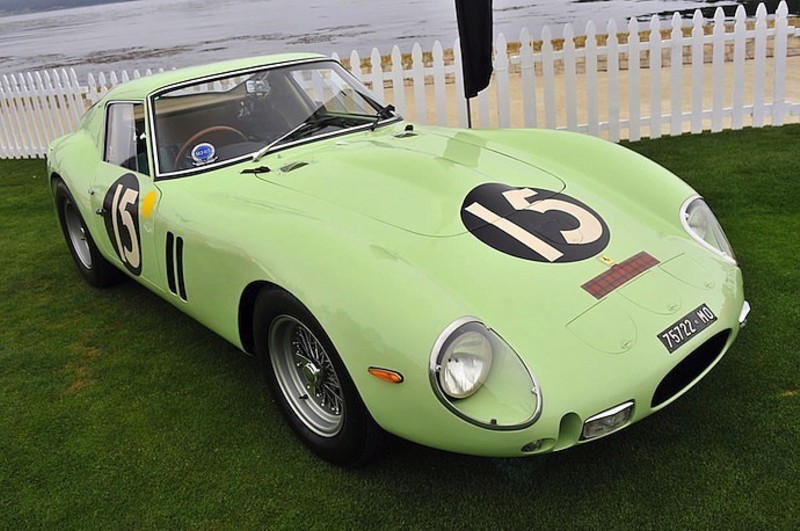 However, it did race in the hands of British driver Innes Ireland at the 1962 24 Hours of Le Mans, but it didn't finish. Its main victories came when Ireland ran the GTO at Goodwood to win the 100 lap Tourist Trophy.
Thirty six "Series I" GTOs were made in the years 1962/63. In 1964, three 'Series II' GTOs were introduced, which had a slightly different look.
Four 'Series I' cars were later given a 'Series II' body.

It brought the total of 250 GTOs produced to thirty nine.
The 250 GTOs were homologated into the FIA's Group 3 GT category.

The 250 relates to the engine capacity in cubic centimeters of one of its 12 cylinders, the engine producing around 300bhp.

GTO stands for "Gran Turismo Omologato", Italian for "Grand Touring Homologation".
A GTO when new cost $18,000 in the United States, but Enzo Ferrari had to approve the sale.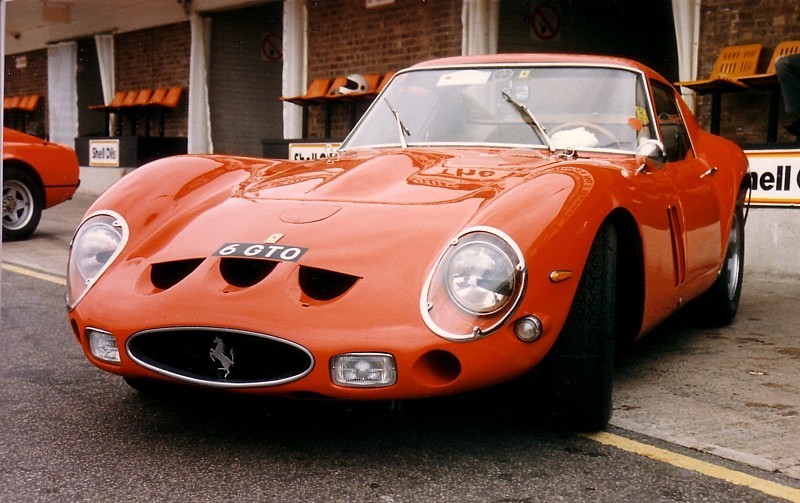 Ferrari 250 GTO "6 GTO" Chassis Number 3527 at Donington Park on 5th June 1990
In June 1990 I was fortunate enough to drive 3527 at Donington Park on a Ferrari track day. The car was owned at that time by Stephen Pilkington. Sadly I don't have a record of my experience but my friend Paul Mercer has video on You Tube with Stephen at the wheel, click on the link below: